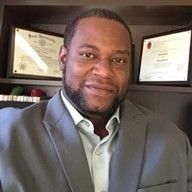 RaShun A. Stewart, EdS, LPC is a Licensed Professional Counselor, Certified School Counselor and Educator. As a professional in the field of Education and Mental Health services, Mr. Stewart offers a diverse background of supporting adolescents, teenagers, young adults, and families in a variety of settings including public schools, colleges/universities, residential treatment programs, and outpatient mental health settings.
Mr. Stewart has a Bachelor of Arts degree (BA) in Psychology from Kean University; Master degree (M.Ed.) in Counseling Psychology from Rutgers University; and an Educational Specialist degree (Ed.S.) in Educational Leadership and Administration from Seton Hall University.
Mr. Stewart partners with his clients as they explore those issues that may be preventing them from maintaining a growth mindset and the quality of life that they deserve. He provides an interactive and collaborative approach and every client is treated with respect, dignity and positive regard.